Plus de photos par Alain Arroyo à retrouver sur son site www.photographies-numeriques.com.
Our championship weekend began on Friday evening at 6pm, as we all gathered in the minibus to begin the long drive to Le Mans. Everyone warned me that it would be 7 hours to Pierre G's father's house (where we spent the night), but it really felt shorter than that. Probably because I was asleep for most of it. But I vaguely remember a lot of shouting and laughing, so I'm assuming everyone had fun.
We arrived in Le Mans around 1:00am, then proceeded to drive in circles for about 20 minutes as Pierre struggled to remember the directions to his own family's home. One big difference between Europe and the US is that there are a lot of one-way streets here, and in this case they were all pointing away from the house. But after a few Austin-Powers style U-turns (big bus small street) we managed to find the correct path there.
Patrice, Pierre's father, was nice enough to house all 9 of us for the weekend. And honestly, it was some of the best tournament accommodations that I've ever had. Nobody slept on the floor! Our first game on Saturday was at 3pm, so we all had plenty of time to sleep, eat, and prepare. We also had plenty of time to check out the colorful house decorations.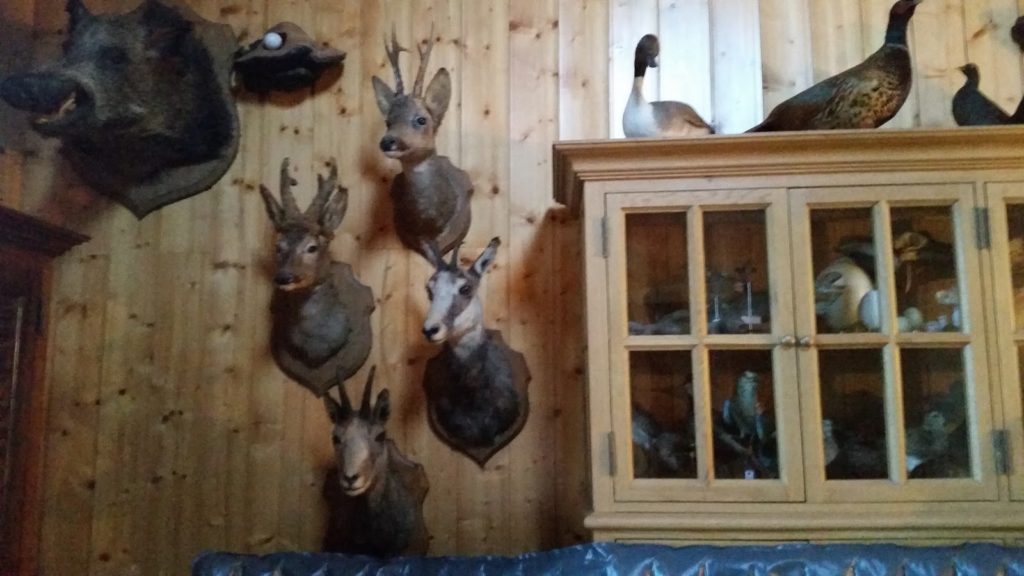 After an excellent pasta lunch, it was time to play some games! Not frisbee games, as we expected, but Slip & Slide. It turns out the terrain at this particular gym was the slipperiest that I've ever seen, and honestly it made the games pretty silly. More than once I watched a defender make a great diving attempt, only to miss the disc and slide an extra 5 meters out of bounds. It was so bad that it became a big part of the strategy to clean your shoes at every possible opportunity.
Nonetheless, we began on Saturday against the Frisbeurs Nantais, and oh boy did we have a great start to the day. For the first half of the game our defense was unstoppable, giving us a nice lead of 7-2. But as the game went on, the Frisbeurs began to learn our tricks, and slowly started to come back. But these indoor games are short, and our early lead was too strong. We eventually won 9-6.
With high spirits, we went into game 2 against Freezgo (Blois), an opponent who we had some experience against from the first tournament in the championship series. Personally, these guys are my favorite to play against. They're all super-athletic, and they've got a strong deep game.
The first few points of the game went smoothly for each offense, but at 3-3 we began to make some mistakes. Freezgo capitalized quickly, and all of a sudden it was 6-8, with cap at 10. But their great long-game also comes with a few risks, and a couple of missed hucks turned into points for Monkey. We brought the game all the way to 9-9, universe.
But sadly, we couldn't finish. They threw a beautiful hammer to the back corner, beating both the defender and the poach by placing the disc right at the corner. Good game Freezgo!
It's always difficult to lose on universe, but the good news was that it was time for dinner. After the game was over we all showered up and headed out. A few highlights from our night: FX can eat a ridiculous amount of food, Pierre G can eat a ridiculous amount of dessert, and Tuhiva is not very proper with the serving staff :p.
With 3 games remaining and dreams of making the podium, we began Sunday morning at 10am against Tchac (Pornichet). Exactly what happened in this game has been the subject of a great deal of research, but unfortunately none of it has been conclusive. The only fact that we really know is that they won. 12-3. Ouch.
A little deflated, we began our penultimate match against Sun (Créteil). Unfortunately, our leftover frustrations from the previous match carried over into some unnecessary turns in this one, giving Sun an early led. At 3-6, we called a timeout to recoup our spirit, and recoup we did! With renewed energy, we took back the breaks we had given up in the earlier half, eventually tying the game at 9 with cap at 10.
Another universe point. But, eerily similar to the Freezgo game, we failed by inches at the last moment. Sun scored on a well-placed floater to the break side that featured 2 Monkeys just inches away. And with this, our podium hopes were dashed.
We played one more game against Magic Disc (Angers), which featured a great many brilliant plays on both sides, and really served as a great good-bye to this indoor season. In the end it was 11-8 Magic Disc, and Monkey took 5th place at the tournament.
With the tourney over, all that was left was to relax and unwind and (ugh) get ready for the upcoming work day. At least that's what we thought…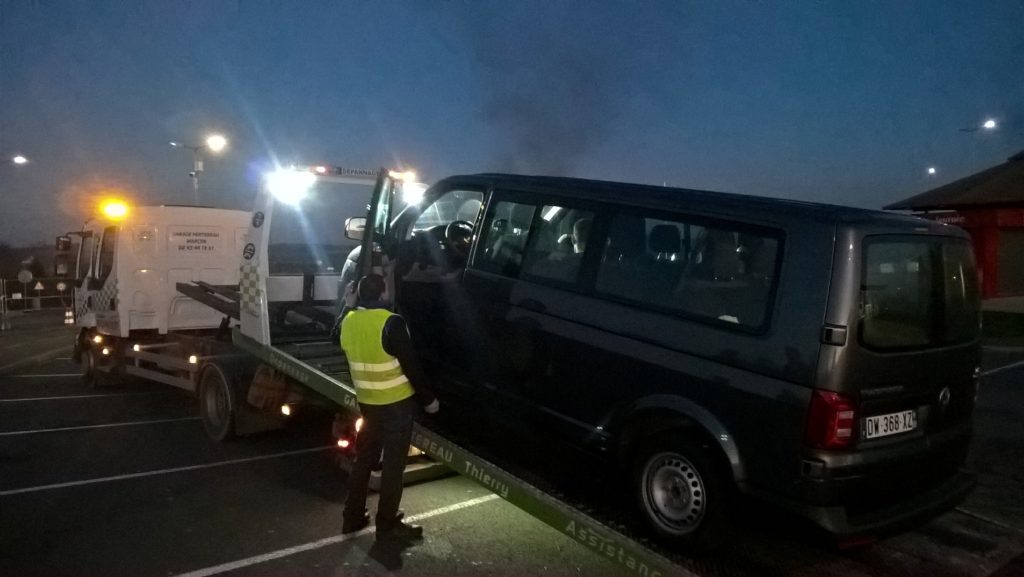 It's no fun to focus on the bad parts of the weekend, so let's keep this brief. Car troubles on Sunday night when nothing is open => bad times. A huge thanks to Pierre C for finding us a new minibus, and another huge thanks to Theo, Flo, and both Pierre's for driving us home safely in the middle of the night. It was a hell of a time getting back, but I'm proud to say that the entire team kept a positive attitude the whole time. In fact, I'd even dare to say we had a fun together (although this is probably Stockholm Syndrome talking).
So, there it is, your résumé of the indoor championship weekend. Except for of course, the most important part!
Geoff.