There will be 8 teams of 8 players each. Games will take place from Friday to Sunday (included).
This tournament is a "hat" tournament: individual registration. Team will be randomly picked on Friday.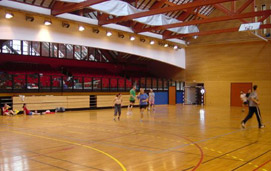 Specific rules of the tournament
Hat tournament
Coed teams (depending on how many women/men attending)
30 minute matchs. No time-out
Points attribution:
4 players on the field : point = 1
3 players on the field : point = 2
2 players on the field : point = 3
The number of players on the field is choosen by the offensing team, tossed at the beginning of the game.
If you score from your own hand-zone, points are multiplied by 2.
Bonus: all points can be additionned: by instance you score from your hand zone with a 2 players team –> points = 6
For pool games (Saturday), there are no points for victory. Goal-average is the only way to get points.
Competition schedule
Friday
Planning games: 6pm to 9:30pm
Saturday
Pool A games: 9am to 12:30pm
Pool B games: 2pm to 5:30pm
Sunday
Ranking games: 9am to 12:00pm
Tournament schedule
Thursday
Players arrival
Ski/snowboard
Leisure center
Thursday 6pm
Check-in
Setting-up in the flats
Welcome Party at the Stief
Friday 8am
Breakfest at the Stief
Friday
Ski/Snowboard/Leisure Center (usual name for swimming-pool, spa,… center)
Friday 3pm – 5pm
Gym opened (free access)
Friday 5pm
French « Apéritif » – welcome drink at the Leisure Center (provided by Vaujany town)
team picking hat
Friday 6pm – 9:30pm
Planning games
Friday 8pm
Dinner
Party at the "Salle des Fêtes"
Saturday 8am
Breakfest at the Stief
Saturday morning
Ski/snowboard race for pool B
Ultimate for pool A
Saturday afternoon
Ski/snowboard race for pool A
Ultimate for pool B
Saturday 6pm
Animation
Saturday 8pm
Dinner and party
Sunday morning
Ultimate
Sunday 11am
Finale game
Sunday 11:45am
Prize ceremony
Sunday afternoon
Ski/snowboard, departure