There will be 8 teams of 8 players each. Games will take place from Friday to Sunday afternoon (included).
This tournament is a "hat" tournament: individual registration. Team will be randomly picked on Friday.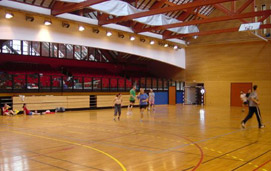 Specific rules of the tournament
Hat tournament
Coed teams (depending on how many women/men attending)
30 minute matchs. No time-out (no cap)
Points attribution:
4 players on the field : point = 1
3 players on the field : point = 2
2 players on the field : point = 3
No limit of points
The number of players on the field is choosen by the offensing team, tossed at the beginning of the game.
If you score from your own hand-zone, points are multiplied by 2 (does not apply to the first pass after the pull).
Bonus: all points can be additionned: by instance you score from your hand zone with a 2 players team –> points = 2 * 3 = 6
For pool games (Saturday), there are no points for victory. Goal-average is the only way to get points.
Competition schedule
Friday
Planning games: 6pm to 8:30pm
Saturday
Pool A games: 9am to 12:30pm
Pool B games: 2pm to 5:30pm
Sunday
Hat within the hat, open play
Ranking games: 1pm to 4pm
Tournament schedule
Thursday
Players arrival
Ski/snowboard
Leisure center (sauna, hammam)
Thursday 6pm
Check-in
Setting-up in the flats
Welcome Party
Thursday 7pm
Animation in the street, by Vaujany tourism office
Thursday 8pm
Welcome party and restaurant (price not included in your registration fee)
Friday
Ski/Snowboard
Leisure Center (sauna, hammam)
Friday 4pm – 6pm
Gym opened (free access)
Friday 5pm
French « Apéritif » – welcome drink at the Leisure Center (provided by Vaujany tourism office)
Team picking
Friday 6pm – 8:30pm
Planning games
Friday 8:30pm
Dinner & Party at the "Salle des Fêtes"
Saturday morning
Ultimate for pool A
Ski/snowboard race for pool B
Saturday afternoon
Ski/snowboard race for pool A
Ultimate for pool B
Saturday 6pm
Animation by Vaujany tourism office
Saturday 8pm
Dinner and themed party
Sunday morning
Hat within the hat, open play
Sunday 1pm
Ranking and finale games (on the snow, if the weather allows it)
Sunday 4pm
Prize ceremony