2 accomodations are available:
In chalet for 6 people in the site: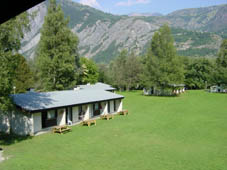 The "Grand Renaud" complex has 16 chalets, enough for 8 teams. 2 chalets are dedicated to each team, that is adequate for 12 players. Additional players will discharge the "camping" price.
Player Fee : 120 € per person, all included
Even if you are accomodated in a chalet, don't forget to bring your own sheets/sleeping bags/towels. Only blankets and pillows are provided.
If you plan to leave Bourg d'Oisans on Monday, it will be possible to sleep in chalets during the Sunday night. Do not hesitate to ask us for more information, and you will also get in touch with the chalets' owner during the tournament.
Camping in the site :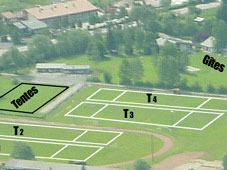 The camping area will be located just next to the fields.
Player fee : 85 € per person, all included
Do not forget all your camping gear if you choose the "tent" option.
Dress Tip: Do not forget hats and sunscreen, but also take some warm clothing. Bourg d'Oisans is 730m above sea level, so the sun can hit hard, but the weather can also be very cold… you could get an overview of the 4 seasons in one day!